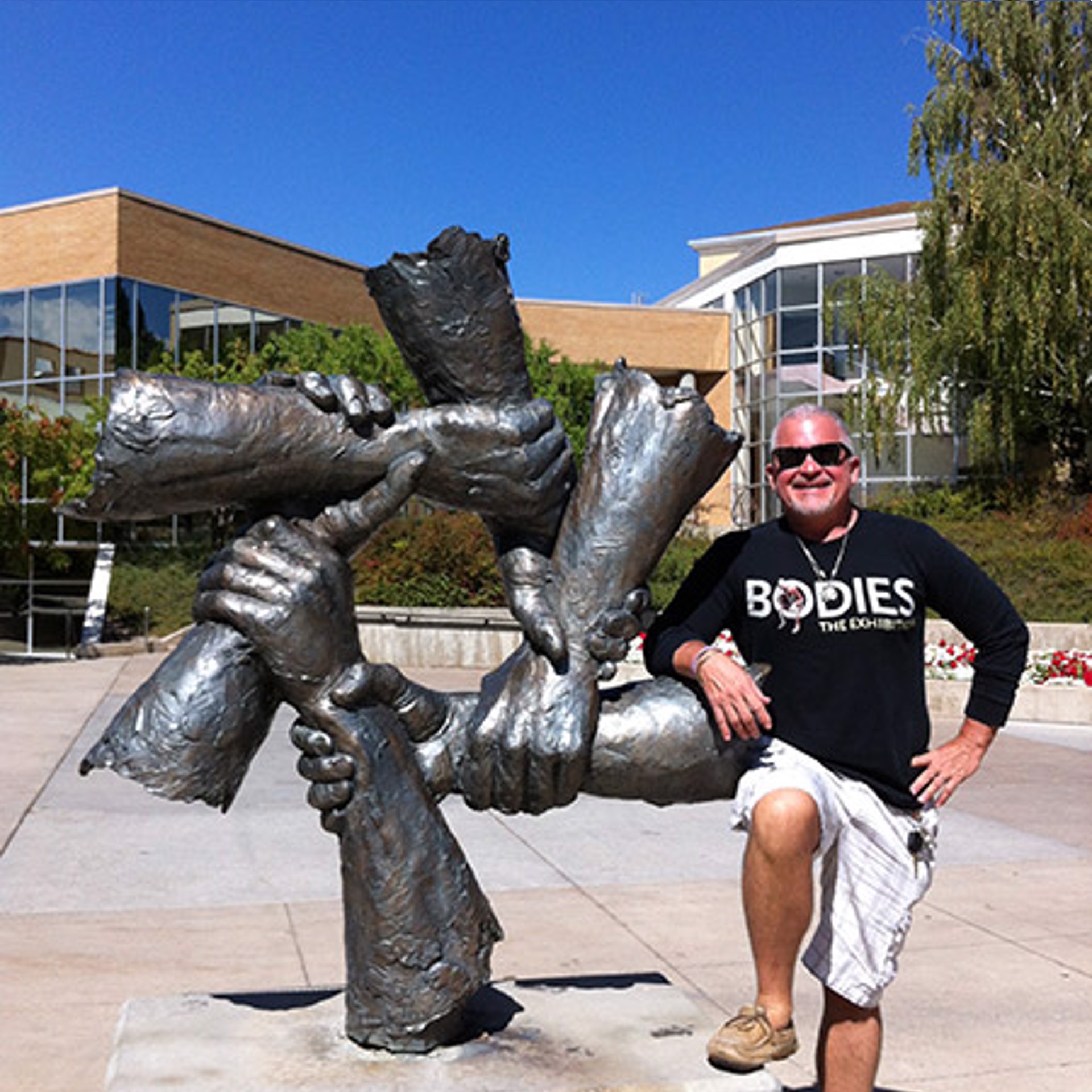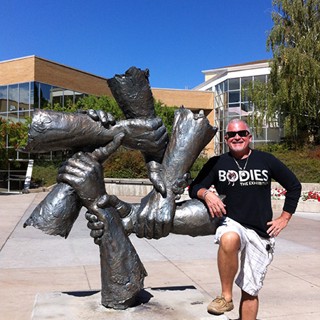 Gary Lee Price sculptures capture this unique human spirit. This is the essence of his work. This is his life's journey.
Literally, thousands of Gary Lee Price sculptures are in public and private collections throughout the world. One of the largest libraries in the world, the Hong Kong Central Library, is graced by the recent acquisition of twelve Gary Lee Price life-size bronze sculptures. This impressive display includes bronzes of intrigued young readers, happy children releasing doves, boys and girls playing with shells in water, some holding beautiful flowers, and others soaring through the air as though weightless. Additionally, two round frogs, "Puffed Up Princes," are stationed as sentinels at the entrance of the children's library.
The 11-foot "Celebration!" featuring joyous children celebrating life and soaring around a globe, was first unveiled in Surrey, England at the American Community Schools. The most recent of these was dedicated in Decatur, Georgia by former First Lady, Rosalyn Carter.
Gary's 12-foot angel, "Messenger" monument, in Iceland, honors over 400 early immigrants to the United States.
Gary's sculpture "Communion," a 15-foot monument portraying grasping hands, graces the United Methodist Church of Brentwood, Tennessee. The interaction-of-hands theme has been an important aspect of his work as reflected in other pieces such as "Synergy," Helping Hand," "Ascent," "Circle of Peace," and "Circle of Friends." Uplifting others, helping others, and joining hands with others in brotherhood and sisterhood are essential parts of the life of Gary Lee Price. Perhaps the unexpected and tragic loss of his parents at age six and the subsequent abuse anchored within him the importance of enduring and positive relationships, and of the need to see and depict humanity in a positive light and on an upward journey.
Gary finds travel and research an important part of his life. For two years he lived in Germany, he spent six months in Israel, one month touring the jungles and ruins of Mexico and Guatemala, and one month in Egypt. He visited eleven different European countries for three months. A recent trip found Gary and his family in Giverny, France doing research on one of his latest life-size sculptures of Claude Monet and "Monet's Gaggle".
Gary is a Fellow of the National Sculpture Society. A designation that is rare and is one of his most treasured accomplishments. Among his other great accomplishments, Mr. Price has been commissioned to create the 300 foot Statue of Responsibility, Viktor Frankls vision from his book "Mans Search for Meaning". It will be the bookend to the Statue of Liberty and will be built on the west coast.
His works are included in public and private collections in homes, galleries, museums, libraries, corporations, cities, and educational institutions throughout the world, including the following: Salt Lake County Permanent Arts Collection; Culver Military Academy of Culver, Indiana; American Community Schools of Surry, England; Westside Preparatory School of Chicago; Rich De Voss Women's and Children's Hospital of Grand Rapids, Michigan; Dallas Arboretum; Birmingham Botanical Gardens; Scottish Rite Children's Hospital of Dallas, Texas; Gladney Center of Fort Worth; Galleria Paseo Mall of Puerto Rico; Santa Clara City Library ; Bluegrass Airport of Lexington, Kentucky; Neverland Ranch of Los Olivios, California; University of California Berkeley; Cessna Aircraft of Wichita, Kansas; Indianapolis Children's Museum; and many more places of private and public gatherings.
Gary Lee Price has been sculpting professionally for over 30 years and has supported a successful fine art business during those years. His latest corporate endeavor is the creation of Little Bitz of Inspiration. This is an exciting company that will increase awareness of Gary's work and passion for creating a better world. Some of his all-time favorite works will be produced in collectible pewter form.
Gary muses, "I hope I can assist the world in visualizing a place where fences and boundaries, both real and imagined, are non-existent; a place where bias and prejudice are long forgotten; and finally, a place where acts of kindness, mutual respect, and love are everyday happenings."
Read More