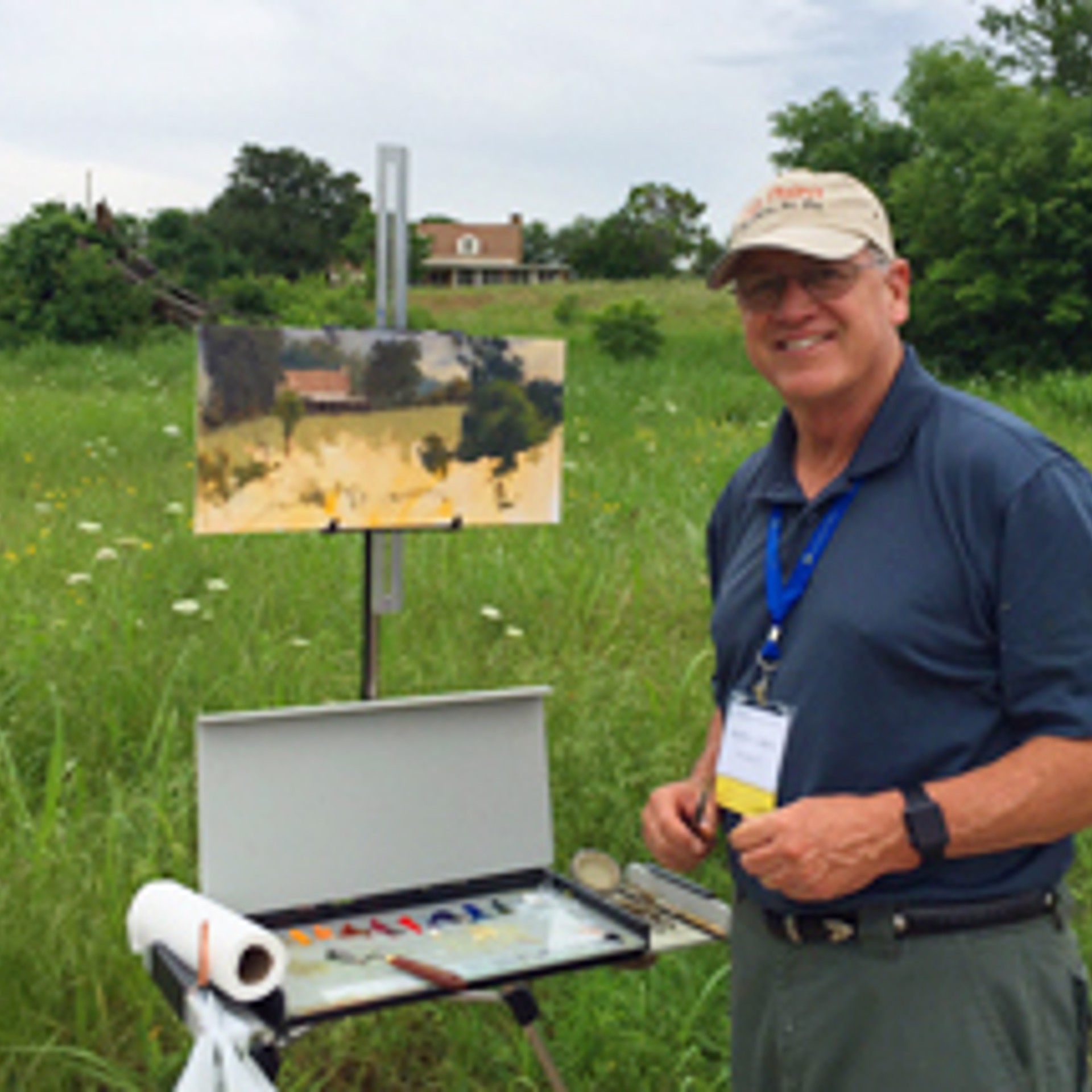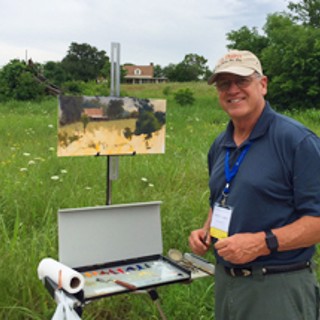 Plein Air artist Rusty Jones is an exceptional Texas Plein Aire artist painting the American landscape for collectors coast to coast and border to border. En plein air is a French expression which means "in the open air", and is particularly used to describe the act of painting outdoors, which has become his love and focus. Artists have long painted outdoors, but in the mid-19th century working in natural light became particularly important, and which now has captured this son of Texas after working as a medical illustrator for over twenty years. After obtaining a Masters in Medical Illustration, he illustrated countless medical and pharmaceutical ad campaigns, medical journals, college textbooks and more; which not unlike many other fine art artists that preceded him, that training, learning to meet deadlines, and drawing countless hours equipped him to move into the fine art field with a solid foundation.
Rusty's love of sports then led him into sporting art which landed him illustration assignments with such notable magazines as Golf Illustrated, Golf Magazine, the Golf Journal and American Way Magazine. He further provided sports art for the Coca Cola Foods Division for the Summer Olympics, the Dallas Cowboys and the Dallas Mavericks.
Today he almost exclusively purses the landscape from the Big Sur coastline, to the beauty of the Texas Hill Country, to the diverse environments of Big Bend, New Mexico, Arizona and beyond.
Not unlike some of the artist that influenced his development like Scott Christensen, Edgar Payne, Richard Schmid and more he is totally captured by the impact of natural light on location. He has stated "Painting outdoors takes passion. Without it the wind, heat, snow and bugs would drive you indoors!"
Now offering and sharing his acquired skills, Rusty often teaches workshops around the country. He offers: "Every painter can learn to paint better by dedicating himself to learning how to paint by studying with others and by painting outdoors often and by intense practice sessions in the studio. There is no short cut. But along the way you learn the pure joy that comes from applying paint to canvas and capturing essence of the landscape being painted."
Jones is a member of the Outdoor Painters Society and Oil Painters of America.
Following is a partial list of recent awards:
Boldbrush 3rd Place, January 2012, Boldbrush FAV 15%, January 2012, Paint America Top 100, "Washout Patterns", 2011, "Artists Choice Award", Coastal Paintout 2011, Southwest Art Magazine Award, Plein Air Southwest, April 2011, Paint the Parks Top 100, "Alberta Falls", 2010, Paint the Parks Top 100, "Washout Patterns", 2010, Plein Air Southwest Jury's Selection, 2009, Honorable Mention for Artist Excellence, Salon International, 2008, Award for Excellence, Arts for the Parks, 2006
Read More